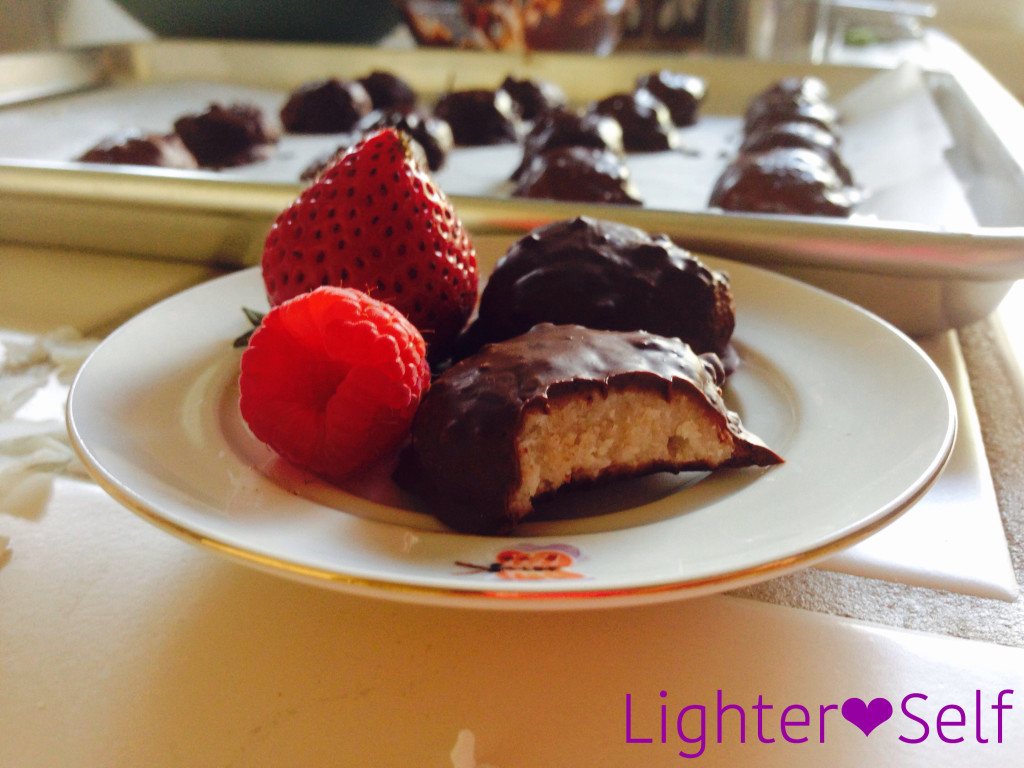 With Easter approaching, I cannot help but remember those days in Brazil, when the Easter bunny would bring me enormous chocolate Easter eggs filled with diverse types of bonbons! My favorite was a delicious chocolate filled with sweet coconut paste called Prestigio! I attempted to create a healthier version of these delicious treats to share with my family and friends this Easter, and it turned out even better than I hoped for! I call them Protein Dark Chocolate Coconut Bites! If you would like to know the recipe, check out my website www.lighterself.com under desserts! There is no time better than Easter to indulge in some delicious and healthy chocolate treats! And the best part is to know that you are actually nurturing your body with it! Remember that these are still sweet bites and they should be enjoyed with moderation!
Ingredients
 Filling:
•2 cups Organic Shredded, Unsweetened Coconut
•3 tbsp organic raw honey
•3 tbsp. extra virgin coconut oil
•1 scoop vanilla vegan protein powder (optional)
•3 tbsp coconut milk (optional)
•1 tsp. organic non-alcoholic vanilla extract
 Dark Chocolate Coating:
•1/4 cup cacao butter
•3 tbsp raw cacao powder
•1 tbsp raw honey
•1 tsp cinnamon
Directions
Blend shredded coconut in a high speed blender for 1 minute or so, until texture becomes like a thick buttery flower. Add honey, coconut oil, protein powder, coconut milk, and vanilla extract and blend for 1 more minute. Then, squeeze the paste into your hands and roll into about 15 ½ inch balls. Set them in a baking tray lined with parchment paper, and place in the refrigerator for 30 minutes (until they become firm).
While the balls are hardening, start working on the dark chocolate coating: place a pan of water over low heat , and let the water simmer. Then, place a glass bowl on top of the hot water, add the cacao butter to the glass bowl and stir gently and constantly until it melts all the way. Then, add cacao powder, cinnamon and raw honey, mixing until smooth.
Once the chocolate coating is spreadable and the coconut balls are hardened and cold, roll the coconut balls into the raw chocolate coating, gently place each ball back onto the sheet of wax paper, and chill until the chocolate has hardened. Enjoy!
Store in refrigerator!
Serves 8