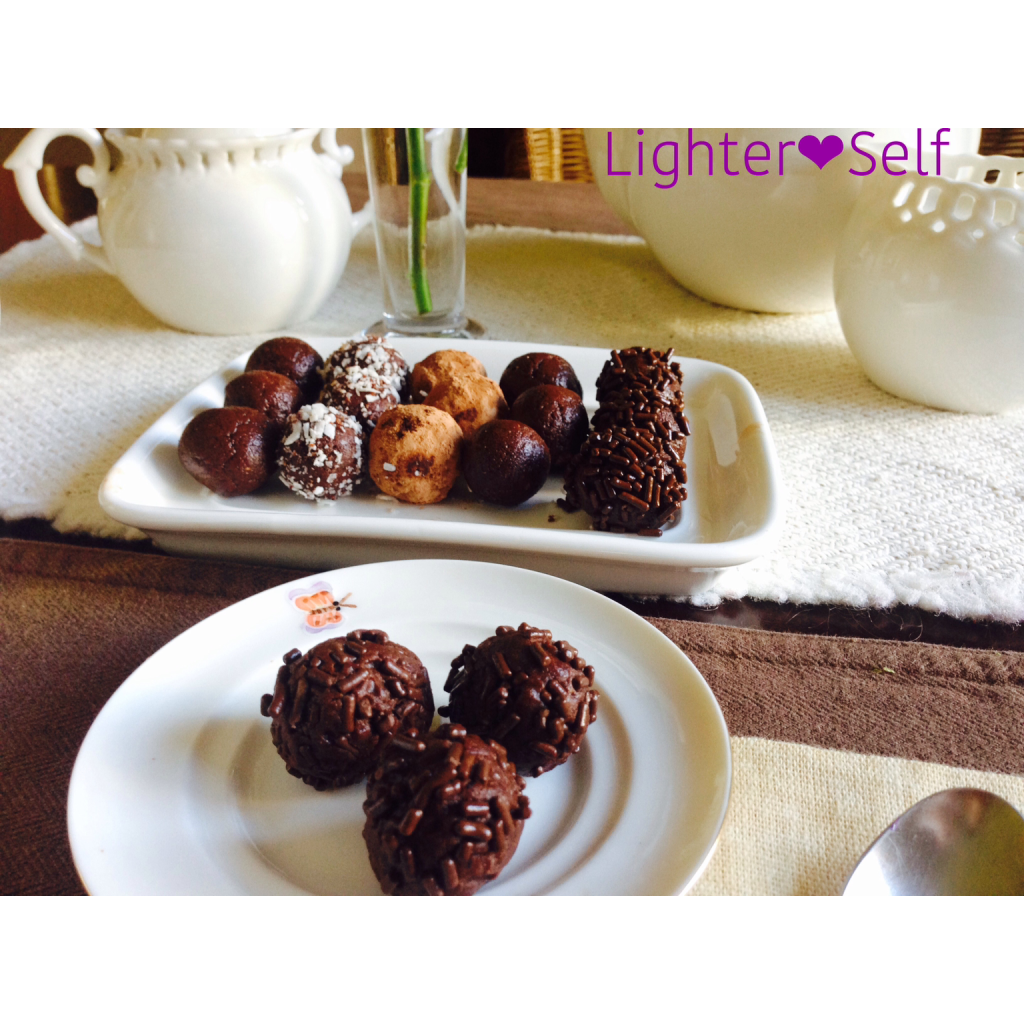 Since I have been making different types of Easter chocolate recipes to satiate my addiction to chocolate and my homesickness, today, I tried to recreate a healthy version of Brazilian Brigadeiros, and it turned out so good and rich, that I am going to call them guilt-free protein chocolate truffles! Brigadeiros are the most traditional Brazilian chocolate bonbons. They were named after Brigadier General Eduardo Gomes, a famous Brazilian Air Force commander from the 1940's, who was a chocoholic. A local restaurant in São Paulo created these bonbons for him, and they have since become a favorite at parties and other festive occasions throughout Brazil. This popular Brazilian chocolate has been served at every birthday party I have ever attended. In Brazil, there is no party without Brigadeiros! Most Brazilians use chocolate sprinkles to sprinkle over their Brigadeiros, but since I am calling my healthy version truffles, I decided to add some of my favorite toppings: 100% cacao powder and shredded coconut!
Ingredients
• 15 mdjool dates, pitted
• ½ cup raw Hazelnuts
• ½ cup organic almond meal
• 1 scoop organic vegan vanilla protein
• ¼ cup organic cacao powder
• 3tbsp organic almond milk
• 1 tsp vanilla
• ½ tsp cinnamon
• Cacao powder, shredded coconut, crushed nuts and sprinkles for toppings (if desired)
Directions
Soak dates in hot water for a minute or so.  Pulse Hazelnuts, almond meal, protein powder, cacao powder, almond milk, vanilla, and cinnamon in a food processor while dates soften. Then, add the dates and pulse to create a sticky and smooth dough.  Scoop the dough out into ½ inch truffle balls (about 28 truffles) with a small spoon. Roll the balls in cacao powder, shredded coconut, any crushed nut of your desire, sprinkles, or just eat them naked, because they are delicious anyways! Place them in a baking tray lined with parchment paper and store in refrigerator for 30 minutes. After they harden, you can store them into a mason jar in your refrigerator.